Sarah Fowler, Chief Executive of Peak District National Park, receiving
the accreditation award in May 2019
Investors in People Award
The Investors in People  (IIP) standard is a practical framework that any business can use to help ensure its people management, planning and communication processes are working together to achieve its goals and targets. IIP was launched by the Government in 1991 to help raise the productivity of businesses in the UK. Having undergone a number of revisions, we are now on version 6 – which has a clear focus on high performing organisations and reflecting on the latest workplace and leadership development
As a registered and quality assured Practitioner, skillslocal offers advice and guidance to help businesses and organisations work towards, achieve and maintain the Investors in People standard
Currently, skillslocal is a registered IIP practitioner working for the Investors in People delivery partner, EMB Excellence (EMB-x).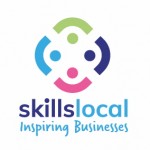 Why Use Us?
Tracy was supporting and advising clients on the IIP Standard when it was first launched. She represented many clients in the North West but included The Trafford Centre, Marriott Hotel and Tampopo restaurant. She understands the needs of businesses and organisations and works closely with clients to ensure they are benefiting from all interventions. It was in this role that Tracy won the business adviser of the year award. If you aren't sure if the standard is right for you, why not give her a call?
Our initial consultation is free of charge and we will work with you to help you decide the best course of action. Once you have decided what you want we will develop a full project specification to ensure this meets your needs. We operate through EMBx who are the delivery partner for Central England.
We care greatly about our clients' satisfaction and take quality seriously, we are keen to receive any feedback, after all it's by listening to our customers that allows us all to grow and develop. EMBx also conduct regular satisfaction surveys in relation to the delivery of the Standard.
Why it's good for your company
provides a national benchmark against others in your sector and other IIP organisations
supports recruitment and retention; particularly in sectors where there are skills gaps/challenges
provides the organisation with a continuous improvement plan which is reviewed annually
provides confidence to clients, partners and suppliers that the company is a good employer endorsed by the national people Standard
compliments other standards such as ISO, as it measures the outcomes of your policies and procedures and the impact these have on your people
some tenders will look more favourably at organisations who have the IIP standard as this shows there are clear and consistent workforce practices and generally a happier more motivated workforce
Why it's good for your employees
the standard incorporates feedback from all employees (via an online assessment) so provides a benchmark for employee engagement
helps ensure workforce practices are consistent across the organisation
provides confidence to clients, partners and suppliers that the company is a good employer endorsed by the national people Standard
the Health and Wellbeing Good Practice Award offers focus and stretch beyond the Investors in People standard.
Some of our EMB-x IIP clients
If you'd like to find out more information and how we can help please contact us or visit the
IIP website, where you can also find a wide range of resources on the latest thinking.
Contact Us
We work with you to make sure what we deliver is what you really need
We are passionate about skills and training and whether you chose a national programme or something more bespoke we will ensure you are completely satisfied! You can also sign up for regular email updates here.
H
You can also book a free Discovery Call

here.
Contact Us